Home > Sex Stories > Phone Sex Storyteller - Emily - Box #56035
Adult Stories by Emily
I have Long Legs, a hot ass and Long Blond hair with Brown Eyes. I love to tell erotic stories about sensual and sexual things I've done and a few fantasies about what I'd like to do.
When you call the Story Line at 1-509-876-5874 you'll get to listen to me talk about my experiences. I hope you enjoy them. My Box # is 56035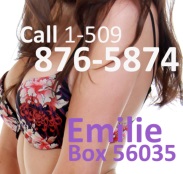 And remember that if I'm on the chatline when you are, you'll be able to send me a live chat request so we can chat live.
Here are short text snippets of my latest Recorded stories….if you like them, call and listed to the kinky details, thx.
Call 1-509-876-5874 My Box # 56035
1st story – Emily's Story ID 1287 I never did my homework in college – I was 18 and a total Honey with wheat colored blonde hair 5 foot 4 106 lbs and petite body. Very curvy 34 on top. Some of the reasons I got straight A's .. was because I just took my pen, which looks like a red and white peppermint and I sat all the way in the back of the classroom.. and rubbed my ……….(call to hear the rest)
2nd Story – Emily Story ID 1387
I sounded really innocent… But sounds can be deceiving… with my black Patton stilettos and my red "Come fuck me lip stick" on; Guys get down in front of me, ready to do whatever I say – and I can be NASTY….(I train my male whores very well)
3rd Story – Emily Story ID 1444
Going into a strip club with all of those big breasted girls letting all of their inhibitions go, was always a fantasy of mine. I've always wanted to strip, and check out a STRIP CLUB…..soooo, I took my guy friend and decided to check it out… I never knew that the girls would want to strip 4-me and grind on me…….anyway it was my first time a girl made me come…..she called it a girl-gasm... "whatever"...it was totally fucking awesome.
Something that happened last summer. Hope to Record it SOON
Engine Breakdown Sex Story
I hadn't expected that a broken down car could be so pleasurable last summer when I was driving to my mother's place that lives out in the boonies. I saw steam or smoke coming out of my hood so I pulled over; cursing and fuming I stepped out of my car and popped open the hood as if I actually knew what to look for. I'm not sure whether I was relieved or not to find only a little steam coming from the hot motor instead of smoke.
I fiddled around touching things not really knowing what I was even looking for. Frustrated, I just leaned on the front of the car thinking how much this all sucked. Well I'll just call my mom and have her come and get me. Then I realize that my phone is dead and I don't have my plug in charger with me. Arrggggh…I'm just so pissed off right now, I could just scream.
Just then a very sexy guy stopped his car behind me and came round to the front of the car. He was really checking me out but pretending to be concerned about the steam coming out of my hood.
"Need a little help, sweetie?" he'd asked in his slightly southern dialect, flashing me a pearly white smile that had me melting on the spot; despite it being a rather cool day.
Keep Reading - I'm about to get to the Good Stuff
I was about to take any sort of help he'd offer. He offered to call for help but said he could probably fix it there on the spot. Thirty minutes later he had the car running and there was no more steam coming out of from under the hood. He told me what he did to fix it but it all went over my head. I didn't really care anyway; all I wanted to do was get on my way. But I was kinda thinking in the back of my mind that I'd like to see this hunk again. I was already thinking 'bout what I'd like him to do to do.
I did feel like I kinda owed him something for his time so when he invited me into the back seat of his car I took him up on the idea and got into the back seat of his huge Dodge truck with tinted window, where he light a joint and cracked a few beers.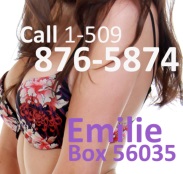 He immediately leaned over and kissed me and grabbed my tits and then started to undress me aggressively. I was so fucking horny by this time 'because I was already sucking his dick in my mind by this time. I just wanted him to just get me naked and totally ravish me; so like some kind of dumb slut I blurted out "fuck me like a cheap whore". I was going to be the best fantasy fuck he ever dreamt of or had in real life.
Within 1 minute, my jeans and panties lay discarded on the seat next to us. I rode his 9" rock hard cock while one car after the other passed by. He was fucking my tight pussy so hard that I was screaming with delight. A few cars had actually slowed down to see if we needed help and when they heard me screaming I can only image what they might have been thinking.
However I'm thankful that no one fully stopped, but if they had, I may have simply invited them to join in on the fun. Anyway, I continued to slide up and down his shaft letting him stretch me as my juices slid down his length onto his thighs and the fabric on his backseat. I still didn't know his name at this point.
And as I felt all-filled-up with this handsome southern boy's cock, feeling his lips and teeth around my nipples and his hands all over me, I'll never again curse over an engine breakdown because I will always have fond memories of this incident!
BTW – we met again and both he and a friend banged me good….. (I think I'll record this one too very soon).
If we CHAT LIVE you can tell me if you'd like me to record it if I haven't already!
Call 1-509-876-5874 My Box # 56035