Home > Sex Stories > Sex in an Elevator
Sex Stories by Alexis
My Bio: I'm 25 Long blond with curly hair and Baby blue eyes, tight pink pussy and a fantastic ass.
My storyteller name is Alexis and my Story Box number is 27940
These are Examples of just a few of my stories…..Enjoy!

1st Story – Story ID 1463 in Categories Random Encounters and Horny Right NowI'm the anti-girl next door. I'm a little nympho. I love geting my clothes ripped off, being naked in my stilettos with my long sexy legs. I get into a lot of nasty situations where I just get fucked aggressively by guys and I like to share my experiences. This Story is Nasty!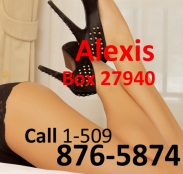 2nd Story I love getting my nice big toy all creamy inside my tight pink pussy. I want you to "cum" join me…I like guys to watch and masturbate while I…(you gotta hear more)
3rd Story
Losing my virginity on my 18th birthday…. Scared - Shy - Inexperienced. I knew I wanted to let him fuck me….. We walked out into the woods… and he explored all my 3 holes. Scared, we waited afterwards to go back to my boyfriend's grandfather's house, where later that night I offered all my holes to him again….he taught me the joy of anal sex.
Here's a current experience and one I'm about to RECORD


Going up! Elevator Sex
Have you ever seen those movies where someone hits the stop button in the elevator and a hot sex-scene pursues? Yeah me too. Have you noticed how few elevators actually have a button that will stop the elevator - without automatically calling the emergency line, that is? Well I noticed and so did my boyfriend and so we jokingly agreed that if we ever happened to find ourselves in an elevator that actually allowed its occupants to stop it between levels, we'd do it and have hot steamy sex.
And please bear with me a little; as I'm a lot better at narrating a story as I am at writing one down. Anyway back to my story and I think you can imagine where this is going now, can't you? You'd be right.
It was a Thursday and we were headed to see an attorney about securing each other in marriage, wills and such – that sort of thing, boring of course in comparison to what happened on the elevator! So let's get to that part instead.
We got in, punched in our floor number and stood conversing idly when we both spotted 'the' button at the same time. I glanced at him, he glanced at me and a smile spread across both of our faces simultaneously. I reached out and pushed the button and we waited with baited breath to see if an alarm would go off or someone would start talking through a hidden speaker.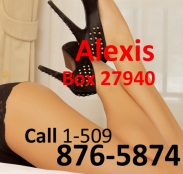 When neither happened I closed the distance between him and me and went straight for his belt buckle and he for my shirt buttons. I remember wondering, when he stood there with my bare breasts in his hands and my hand tucked into his jeans, whether there was a camera in the elevator that I just hadn't spotted. I looked around for it and was satisfied that there wasn't one.
How do you like me so far? Call-2 Hit Me UP!
Now sex in an elevator isn't as easy and smooth in real life as it appears on television, but it sure is equally as hot if, not more. The nervousness of being watched and the excitement of doing something 'forbidden' really makes a blowjob that much more steamy. I'm sure my lipstick was smeared and that my hair was all messed up by the time I'd finished licking his hard cock.
Then he leaned back against the elevator wall, picked me up from my knees and propped me up against the wall with my legs on his hip. But no matter how my hair and makeup looked, it was damn well worth it to be fucked silly in an elevator till we both cried out. Ya I know you always read that in romance novels but we really were making some crazy yelling and whooping sounds.
And you know, I think this attorney may be starting to wonder why we're coming back so often for little things… But I can't help it, the building he works in, has the best elevator in town!
Now I fantasize about fucking or sucking a complete stranger in the elevator. In fact my attorney is a little sweet on me and comes onto me. I would love to fuck him in the elevator too. I really want to do that so fucking bad, I can taste him now!