Home > Sex Stories > Stranger Sex
Sex With a Stranger
Emilie – I'm 20yrs old, 5 foot 3 Black hair green eyes with pale skin. I like reading books, taking long showers, masturbating and writing and recording Adult Stories. I want to be a professional writer someday and publish some of my stories.
My story Box# is 80186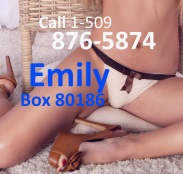 Here is an example of one of the stories that I've recorded on the Story Line at 1-509-876-5874
Sample Story
I was such a good girl before…. Before I found "myself" or rather my clit. I enjoyed reading and studying…..and now… I enjoy coming home, maybe reading a few pages before I get a shower and start playing with my cute little yummy pussy. If you want to hear me moan.... if you want to feel me…. Come listen to my story.
CHAT LIVE with ME or other Adult Storytellers?

I call the Story Line almost every day and chat with the guys who appreciate my stories. I'll chat live with you and tell you a Kinky story so you can enjoy yourself, if you know what I mean.
I was asked to write a story that I'm about to publish in the line. Hope you like it.

The Second Man - The Stranger

Jim and I were the happy suburban couple that had found ourselves in that part of our first year of marital life where you're not quite holding hands walking down the street anymore, but not quite the part where you've starting wearing matching sweat suits either. We found ourselves getting bored, to put it frankly.
Our sex life sucked! Since it had been suck a big part of why we were attracted to each other, we need to do something to infuse some sensuality into our relationship or we were going to keep getting more depressed about our platonic situation.
I really needed someone to crave my body again; someone who really wanted to taste me, finger me, suck me and fuck me like they wanted me badly.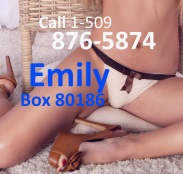 And that's the reason I was now finding myself clutching my pillow as a stranger that I'd only just had a glass of wine with, rammed my sweet spot from behind. His large hands on either side of my ass were caressing it lovingly. My firm tits were bouncing deliciously as they hung ripe below me. They hadn't bounced like that for a few years because of always resorting to the missionary position.
But here I was groaning and crying out in sweet pleasure as this stranger's thick cock stretched my inner walls, his hips slapping against my rounded ass with each thrust.
I had no time to feel guilty being so used, so sweetly abused by the stranger. I had thought I would feel guilty, though I'd soon forget any guilt or regrets as soon as I stood dressed in my new deep dark red set of lingerie that hugged my curves so sexily, waiting for the stranger to peel off first my bra, then my panties and discard them on the floor.
But no, I had no qualms as I now reached one hand underneath myself, teasing the tormented clit between the wet folds of my pussy, feeling the thick warm skin of his cock brushing against my fingers with each of his thrusts.
But then why should I feel guilty? One glance over toward the recliner where Jim was sitting naked with his cock in his hand, assured me that I had been right in agreeing to his suggestion of bringing in a third person, particularly a stranger to spice up our sex-life.
I been shocked of course, when Jim suggested another man should take me while he watched and participated, but I had agreed only after thinking it over for a couple of weeks. Now I'm very happy I went ahead with Jim's idea.
I paused teasing myself as my body was still getting slammed forward with each of the strangers grunting thrusts. I smiled over at Jim before continuing my finger's game with my hard sensitive clit. At this point the stranger told Jim to come over and lick him. Jim came over and got down on his knees behind the stranger, spread his checks and started to lick his ass; which I thought was so fucking hot. This really turned me on.
Reaching back a little further to feel the fullness of the ramming cock better, I threw my head back, my dark black locks spilling over my naked back as I cried out in ecstasy; the faint noise of my husband licking and slurping as he hungrily licked this strangers ass.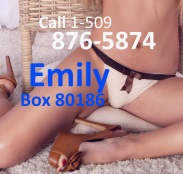 The stranger blurted out that he was going to come and pulled outta me and turned around and stuck his cock in Jim's mouth. "Take it slut. Take my load. Be my male cock-whore. Suck it good bitch".
He plunged his hard cock all the way into Jim's throat; who to my surprise was taking it all just fine.
"Now take my load" the stranger ordered as he pulled his throbbing cock outta Jim's mouth. "Open your mouth slut" he continued as he positioned his cock in front of Jim's now-open-waitng mouth.
He shot his load into my husband's mouth who hungrily swallowed it all and then continued to make the stranger hard again.
We continued to get together several times with this stranger who trained my husband and me how to be his…..MORE...2-Cum
Call the STORY LINE FOR MORE